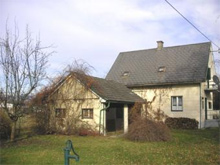 Klagenfurt - Toller Baugrund mit Haus !

Dieses sonnige Baugrundstück liegt im beliebten Wohnbezirk Waidmannsdorf in der Kärntner Landeshauptstadt Klagenfurt. Die Infrastruktur ist als sehr gut zu bezeichnen. Auf dem ebenen Baugrund befindet sich ein unterkellertes Wohnhaus, welches einen guten Zustand aufweist. Man könnte die bestehende Liegenschaft durchaus bewohnen, umbauen oder natürlich ein neues Objekt planen. Für Planung, Einreichung und Bau Ihres Wohntraums stehen wir mit Rat und Tat zur Verfügung !

Grundfläche : 1.176m²
Wohnfläche : ca. 110m²
Kaufpreis : € 240.000,-
Provision : 3% vom KP zzgl. 20% Ust.
back
Request:
For questions and further information fill in the contact form below and write an email to us.
Fields marked with an asterisk (*) are optional.