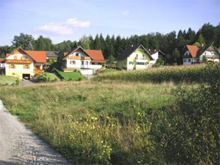 Sonnige Baugründe Nähe Deutschlandsberg!

Diese sonnigen Baugründe befinden sich in wunderschöner Ruhelage nahe dem Zentrum von Wies im Bezirk Deutschlandsberg. Es können auch 2 oder mehrere Parzellen zusammengeschlossen werden. Sollte noch keine Planung für das Eigenheim vorhanden sein, stehen wir Ihnen für alle notwendigen Schritte (Planung, Einreichung, Ausbau) gerne zur Verfügung.

Grundfläche : ca. 425m² - ca. 1.310m²
Kaufpreis : € 35,-/m²
Provision: 3% vom KP zzgl. 20% Ust.
back
Request:
For questions and further information fill in the contact form below and write an email to us.
Fields marked with an asterisk (*) are optional.